Bring Eagles Home for the Holidays!
Help us bring Eagles home for the Holidays!
Eagles need a home for second chance.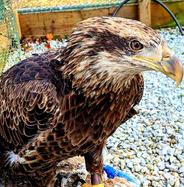 As you are doing your holiday gifting and in the spirit of Goodwill, we ask you please help us this holiday season, by supporting and sharing our Eagle fundraiser, to reach a very important goal for a very important reason.
In the Coastal Carolina region, only one entity rehabs Bald Eagles. Cape Fear Raptor ctr rehabilitates them with the goal of returning back to the wild. After rehab however, some are still non releasable after recovery because although healed, they have injury related issues that makes it so they will not be able to survive on their own in the wild. These Eagles face euthanasia if a placement  option cannot be found. Because of the very strict required permits and housing capabilities, placement/transfer options for Eagles nationwide are very few and far between, plus it's often too stressful for a bird like that to be shipped to the west coast or several states away, as well as costly. The Eagles that become injured in NC must be euthanized (by law) IF they cannot find a suitable placement.
Most Eagles that arrive for rehab are there because of human related activities that touched their lives. They are shot, poisoned, injured by fish hooks & tackle, collide with boats/vehicles. Their lives are affected by human related issues, and on top of that they have to face death if they cannot find a "retirement home" after rehab, if they are not in a releasable condition.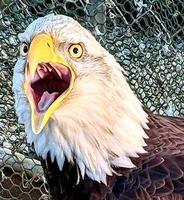 We at SkyWatch Bird Rescue want to do just that, build them a wonderful habitat they can come "retire" in if their injuries were too much to recover fully from. Every Eagle who cannot be released because they have one blind eye, or a wing that is crooked, or too many toes that are missing, and cannot survive on their own anymore if released, will have a safety net, a second option and a second chance to have a life in retirement with other Eagles. This goal is really important and the collaboration between CFRC and SkyWatch will allow the Eagles to not only have rehab, but also a safe haven option if we can reach our goal.
This ALSO means Eagles on display! The Eagle habitat will be on public display for visits and open doors for educational programs and Eagle care volunteer training and student internships!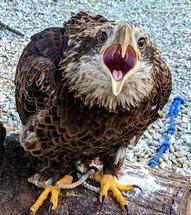 We hope you will share and help support our fundraiser for these amazing birds and help us do something really important and unique for the region. This will not only help these birds but open many learning opportunities for people interested.
ADOPTION AND SPONSORSHIP OPPORTUNITIES AVAILABLE!
If you're business is interested in sponsoring any part of the habitat construction via materials or monetary donations, and have your business name displayed on the habitat, please let us know. Underwriting opportunities like this make great partnerships! If you or your family want to adopt an Eagle for the holidays, just contact us for more info.  THANK YOU!
Many blessings to you all this season. Donation links below.
If either of the above links don't work for you, just
copy and paste into your browser.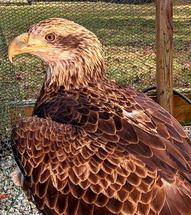 If you prefer not to donate via Gofundme, our Facebok page, or Paypal, you can also donate the following ways:
2. Venmo – Our venmo user id is: @skywatchbirds
3. Cash ap – our cashap user id is: $skywatchbirds
4. Mail – Our mailing address is: 3600 Lynn Ave. Castle Hayne. NC       28429
5. Phone – Just call our hotline 1855 40 RESCU (73728) leave a message and a volunteer will call you to process a donation over the phone using any card of your choice.
6. In person. Stop by the rescue anytime to donate in person.